Common mistakes made by Spanish speakers:

I like you – tu me gustas
cocky, big-headed – arrogante, creído, engreído


'tener' is a problem, isn't it? – it doesn't necessarily translate to 'I have'
tengo calor – I'm hot
tengo sed – I'm thirsty (pronunciation – "thirstee")
¡Ten cuidado! – Be careful! (Take care – Cuídate)
tienes suerte – you're lucky
tengo frío – I'm cold
tengo prisa – I'm in a hurry
tengo miedo de/a – I'm afraid of… What are you afraid of?
tienes razón – you're right (the 3 most useful words in any marriage!) Yes dear, you're right!
I'm bored / I'm boring
The film is boring – I am bored (by the film) – 'ed' adjectives are passive. 'ing' adjectives are active.
This podcast is interested or interesting? You are interested by the podcast.
XThe people is very kind.X – a person IS… / people ARE…. 'people' is the plural noun. 'person' is the singular noun.
'I brought my books here to help you.' NOT….Xto helpingX NOT Xfor to helpX
It's the 'infinitive of purpose' (WHY?) :
I brought my books here.

– Why?
to help you.
I took a pen
– Why?
to write something.
I took a chair.
– Why?
to sit down.
I opened the door.
– Why?
to go out.
Why did you listen to Aprender Inglés con Reza y Craig?
to improve my English
Why did Reza go there today?
To podcast with Craig.

TAKE and LAST
It TAKES Reza 40 minutes to get to Craig's house.
A podcast LASTS about 30 minutes. (the duration of the podcast is about 30 minutes)
X"Can you explain me how to use the verb get?X
Can you explain how to use… OR Can you explain TO ME how to use….OR Can you TELL ME how to use…
TELL and SAY
You usually SAY SOMETHING but you TELL SOMEONE
…but there are exceptions:
TELL the truth
TELL a lie
TELL a story
TELL a joke etc.
"I SAID TO my boss…" OR "I TOLD my boss."
XThere are much differents things to do in my town.X – There are many different things to do in my town.
Adjectives do not agree with the noun in English. – No 'S'!!
XI didn't write nothing.X – "I didn't write anything." or "I wrote nothing."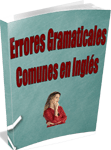 "ERRORES GRAMATICALES COMUNES EN INGLÉS"
EN PDF PARA DESCARGAR.
- 117 páginas.
- Más de 400 términos.
- Explicaciones en español.
- Con ejemplos.

*Dispones de más PODCAST en inglés publicados en los cuadernos anteriores
a los que puedes acceder directamente así como al índice de su contenido.