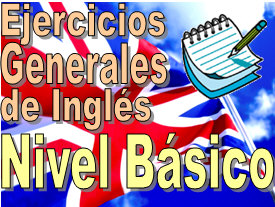 - En esta sección de EJERCICIOS DE INGLÉS DE NIVEL BÁSICO se encuentran recopilados y agrupados los
Ejercicios Generales de Inglés de NIVEL BÁSICO
publicados en nuestros Cuadernos de Inglés para que tengas un acceso más organizado y sencillo a los mismos.
El material publicado SE INCREMENTA PERIÓDICAMENTE agregando los nuevos ejercicios que van incorporándose a cada cuaderno.
- Los ejercicios tienen una diferente temática para que puedas practicar y aprender diferentes aspectos del lenguaje (gramática, vocabulario, expresiones, etc.).
- Si deseas reforzar tu aprendizaje con un método organizado y adaptado a tu nivel sigue nuestro Curso de Inglés Online Gratis.

1 - Sigue las instrucciones para cada ejercicio.

2 - Responde a las preguntas del ejercicio.
3 - Comprueba las respuestas
4 - Escucha el Audio del Ejercicio

Cada Sección de Ejercicios consta de VARIAS PÁGINAS para cada apartado.
Al final de cada página encontrarás la opción para acceder a la siguiente o trasladarte a cualquier página de la actividad que estés realizando.
*Si deseas disponer del nuevo material en menor tiempo suscríbete a nuestro Cuaderno de inglés.
Elige la preposición correcta ("with" "at", "in", o "on").


1. I'm usually bed before twelve o'clock.
2. We had drinks the balcony.
3. I'm going out for a drink after work Barry.
4. I'll meet you tomorrow eleven o'clock.
5. He got the bus and I waved goodbye.
6. Can you pass me my mobile. please? It's the table.
7. Buckingham Palace is London.
8. My mum's birthday's August 21st.
9. I met my wife Valencia 2001.
10. We arrived the airport an hour late and nearly missed the flight.


Elige la palabra correcta para completar cada frase.


1. We cut food with a .
2. We put food in the to keep it cold.
3. When we eat food, we put it on a .
4. A is used to clean the dirty dishes.
5. Before we cook a meal we usually have to the shopping.
6. You can't make an omelette if you don't have any .

Completa las frases con el verbo en la forma correcta. Sigue el ejemplo.


Ejemplo: We to Paris last weekend. (DRIVE)
1. I English for an hour and a half last night. (STUDY)
2. Where your parents born? (BE)
3. My sister can't . (DRIVE)
4. We didn't out at the weekend. (GO)
5. I usually dressed before I have breakfast. (GET)
6. My mum in a hospital. (WORK)

Elige la palabra correcta para completar cada frase.


1. What would you like for ?
2. I think I'll have with my hamburger.
3. Excuse me, can we see the ?
4. Would you like to , sir?
5. I'll have the fish and my wife would like the .
6. That was a lovely meal. Can we have the , please?
*También te puede interesar:
© Copyright La Mansión del Inglés C.B. - Todos los derechos reservados.
La Mansión del Inglés ®. Marca Registrada