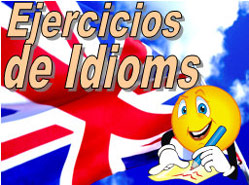 - En esta sección de EJERCICIOS DE IDIOMS EN INGLÉS se encuentran recopilados y agrupados los
ejercicios de Idioms
publicados en nuestros Cuadernos de Inglés para que tengas un acceso más organizado y sencillo a los mismos.
(Los "Idioms" / "Proverbs" son frases hechas cuyo significado generalmente se deduce de la idea que se transmite y no del sentido literal de la expresión. Equivalen a los refranes y modismos que utilizamos en español.)

El material publicado SE INCREMENTA PERIÓDICAMENTE agregando los nuevos ejercicios que van incorporándose a cada cuaderno.
1 - Elige la respuesta correcta
2 - Comprueba tus respuestas

Cada Sección de Ejercicios consta de VARIAS PÁGINAS para cada apartado.
Al final de cada página encontrarás la opción para acceder a la siguiente o trasladarte a cualquier página de la actividad que estés realizando.
*Si deseas disponer del nuevo material en menor tiempo suscríbete a nuestro Cuaderno de inglés.
Choose the correct phrase to complete the idioms.

1. Don't count your chickens
2. Birds of a feather
3. Experience
4. Every cloud
5. A bird in the hand
6. Where there's smoke,
7. Don't look
8. You can't teach


Don't count your chickens...

1. The early bird …..
2. Don't judge a book …..
3. Give him an inch …..
4. All that glitters …..
5. A leopard …..
6. Easier said …
7. Out of sight …..
8. His bark is …

1. What goes around…
2. What does that have to do with…
3. Too many cooks…
4. Absence makes…
5. A change is as good as…
6. A fool and his money…
7. Actions speak louder…
8. All mouth and…

Too many cooks...

1. Any port ...
2. Every dog ...
3. Different strokes ...
4. Great minds ...
5. Fools rush in ...
6. He who pays the piper ...


Any port ...

- Tienes Ejercicios para practicar los Phrasal Verbs en nuestra web
- Dispones de más ejercicios gratuitos de inglés en la sección de EJERCICIOS y en la sección de PRÁCTICA de La Mansión del Inglés.
- De forma continua publicamos en nuestro canal de Facebook ejercicios para practicar y mejorar tu inglés.
- Accede a nuestros Cuadernos de Inglés gratis o bien suscríbete para recibirlos gratuitamente en tu email.
*También te puede interesar:
© Copyright La Mansión del Inglés C.B. - Todos los derechos reservados.
La Mansión del Inglés ®. Marca Registrada