Aprende gratis y mantén tu inglés en nuestro canal de Facebook. Actividades, material, ejercicios, gramática, vocabulario y mucho más...

Porque aprender inglés también puede ser divertido. ¿Te apuntas?

¡Toda la gramática inglesa fácil de entender!
Con ABA English podrás aprender toda la gramática inglesa explicada por los mejores profesores de American & British Academy con videoclases muy amenas y fáciles de entender.
Regístrate gratis aquí.

· PRACTICA INGLÉS EN TU NIVEL.

Escribe las palabras que faltan siguiendo el ejemplo.



Consulta las soluciones /

Escucha y repite la pronunciación
Listening Practice



Escucha y contesta las preguntas.



Lee la transcripción /

Escucha de nuevo.

GRAMMAR



Match the second part of the following sentences using so and because.


Consulta las soluciones /

Escucha el Audio
VOCABULARY - Collocations


Match the two halves to make common collocations and logical sentences.
a) great pride in doing her job to the best of her ability.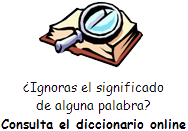 b) great difficulty in speaking and understanding the language.
c) more effort into his work.
d) the chance to meet a top model.
e) me a favour and lend me your car for a day?
f) the most of your time there and only speak Spanish.
g) more attention during the lesson.
h) no notice when Pepito suddenly started to take off his clothes on the train.
i) rid of that old bed and bought ourselves a new one.
j) a joke on him.

Listening Practice


Before you listen, read the following questions.



Lee la transcripción /

Listen again.
Vocabulary

Match the body adjectives with the word or phrase that has the same meaning. Follow the example.


Now complete the following sentences with the idioms from the previous exercise.


Consulta las soluciones /

Escucha el Audio

Choose the best word or phrase to complete each sentence.


Consulta las soluciones /

Escucha el Audio
Listening Practice

Before you listen to a man speaking about the subject of boken bones and hospitals, read the following questions.



Lee la transcripción /

Listen again.

· MEJORA TU COMPRENSIÓN EN INGLÉS


*Archivos de sonido que se descargan para ser escuchados en cualquier momento y lugar, generalmente en un dispositivo portátil.


Descarga GRATIS nuestra app de Podcast para aprender Inglés (para Iphone, Ipad, Ipod y Android).
Aprende inglés con tu iPhone, iPad, etc..

Si dispones de un móvil iPhone, iPad, iPod touch, etc. (Nivel I / Nivel II) puedes
aprender inglés en cualquier lugar y situación con un curso de inglés en audio que te
permitirá aprender de forma práctica, amena y sencilla en cualquier momento y lugar,
aprovechando al máximo tu tiempo.

(*) APP para iPhone , Pad, etc.. Si tu móvil o dispositivo es de cualquier otro S.O.
puedes también hacer uso del producto en su versión PDF y audio en mp3 (curso
en Audio).

*El único curso práctico de autoaprendizaje en inglés para dispositivos móviles
en audio con apoyo en español, trascripción completa y tests de evolución.

Aprende inglés:

- En el metro
- En el autobús
- En el tren
- Caminando
- En casa
- En tu coche
- En el trabajo
- En el supermercado
- En la playa
- En el parque
- En el gimnasio
...donde quieras y cuando quieras

· INGLÉS EN CD ROM

Si te ha gustado nuestro Cuaderno, reenvíaselo a un amigo. Y no olvides que también puedes consultar nuestros Cuadernos Anteriores.
- SUSCRIPCIÓN -
· ALTAS --> Para suscribir una nueva dirección a nuestro Cuaderno mensual de Inglés (ALTA) acceda directamente al formulario de suscripción
· BAJAS --> Para cancelar su suscripción (BAJA) remita un e-mail en blanco desde la misma cuenta de correo que desea dar de baja a: cuaderno-baja@cuaderno.mansioningles.es
· CAMBIOS - > Para cambiar la dirección donde recibe nuestros cuadernos proceda a dar de Baja su cuenta anterior y de Alta la nueva.
· CUADERNOS ANTERIORES - > Para consultar los cuadernos de meses anteriores acceda a: http://www.cuadernodeingles.com
· CONTACTAR --> El sistema de correo que envía el Cuaderno no está habilitado para tratar respuestas. Si vd. quiere contactar con nosotros o hacernos llegar alguna sugerencia hágalo a través del formulario de contacto ( NO responda a la dirección remitente del Cuaderno ).